Since I know these are mainly for me, I'll try to keep this informative yet brief. My Mt. Charleston Half race this past weekend went amazing! It was great setting a goal and basically accomplishing it! I also got to see where my fitness is at and conquered my biggest hurdle – my mental game! I feel like my mojo is back!!!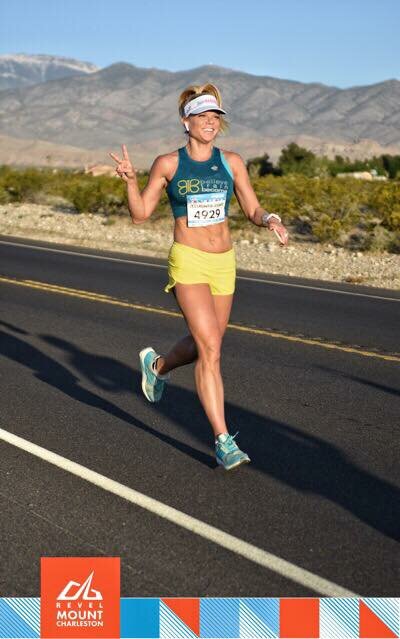 Let me start with what my goal was. I wanted a sub 1:45 time. What did I do? I did a 1:45:29. So I didn't exactly hit my goal but I did have a PR day (previous PR was 1:45:57 set at 3M Half 2013). I mean 5.25 years ago!!! So that was huge and so my coach and I are definitely calling this race a win.
DAY BEFORE
Rewind to Friday when my friend Jess and I did our shakeout run on the strip. We both actually didn't feel that great.

I was still having lingering chest congestion, a nasty cough, had awful ear pressure and pain and sinus stuff going on, too. I also was feeling a dull pain on the top of my foot and kept trying to adjust the tongue of my sneaker. She just didn't feel "on," but she often feels that way when destination running. We had done quite a bit of walking that day at the expo (it was smaller than I expected) where I got to meet up with some fun friends from instagram.



That evening after an early dinner we prepared our race clothes and drop bags and then she and I went to bed by 9:30 pm. One of the last things I said to her was "darn, I hope my foot feels better in the morning." I had noticed a lump form on the top of the first metarsal tendon and it was painful to touch.

RACE MORNING
We slept like you normally do before a race and awoke at 3 am. I had one cup of coffee and a bottle of water mixed with UCan Hydrate Electrolyte mix and then began getting ready. We had rented a car so we could drive ourselves to bus pickup area that would take us to the race start. I noticed right when I got out of bed that my foot was still majorly bugging me but I wasn't going to dwell on it. I just tied my sneaker on that foot very loosely. We gathered our stuff and were on our way to the bus pickup by 3:55 am.
Ok, let me preface by saying it was very dark and we were anxious about getting on the bus. I don't know what else to say. We grabbed our bags and we loaded onto very nice buses around 4:30 am. Not one minute into driving toward Mt. Charleston and I said to Jess, "Oh my God, I forgot my Orangemud hydration pack in the car!" It was laying in the middle seat of our rental car. Because I was driving, obviously I couldn't wear it. I panicked. They obviously weren't going to stop the bus for me. Not only was water in my hydration pack, but I had my inhaler, my sunglasses and my fuel in there!!! Jess talked me off the cliff and told me I would be fine. They had hydration on the course, I had a visor, I was in a drier climate and didn't need my inhaler, and I could drink Powerade in place of gels. What would I have done without her?!?! Because she was right! I needed that common sense in that moment! I could do this!!!
We got to the half starting point (or close) about 5 am. It was chilly and I was thankful for the free gloves they had put in the expo packets. We used the portapottys, handed off our drop bags and at 5:30 am I took my UCan Cocoa Delite with water (yes, I had remembered a shaker, water bottle and my blender bottle in my drop bag). Then we waited until they allowed us to jog to the start line at 5:45 am. The sunrise was beautiful but we were ready to get the show on the road!
THE RACE
Jess and I wished each other a great race (you don't need luck when you are prepared) and she went up ahead (she's smokin' fast). I settled in the pack between the 1:40 and 1:50 pacer thinking I was in the right spot. I felt good. Not too anxious. I actually felt excited!!! I was a little apprehensive about my coach's plan for me because the day before at the expo I had heard how hard this race is to negative split. My coach wanted me to run the first few miles conservatively (below goal half marathon pace), the next 5 at goal half marathon pace and then the next 3 a little faster than goal HMP, and the last 3 all out.
Here's what I did:

Ya… so I clearly didn't follow that plan since my goal half marathon pace was 8:00/mile. But I'm still stoked to have finish as the 105th female overall and 18th/288 in my age group!!! That's the top 6%!

Miles 1-7
I noticed I was running more flat footed than normal because of my foot pain but it really didn't affect me other than the gait change. These miles were so enjoyable, I must say and they flew by!  And wow, when you are running at that kind of descent, it's virtually impossible to pull back on pace. It almost takes more energy to hold back. I definitely felt the decline on my quads and couldn't believe that every mile kept ticking by in the 7s. At mile 5.5, I actually was smiling and I affirmed that I was going to PR to myself. In the midst of mile 7, one of my earbuds fell out. I had to actually run back up a bit and dart in and out of people to grab it off the ground. It definitely took about 1/2 mile to get my rhythm and breathing back.
Miles 8-9
We came off the mountain and back to the main roads. I remember thinking "eff, it's windy." We had direct headwind for these miles and I knew I was expending more energy.
Miles 10-11
I began fighting in these miles. There were some small hills (I know the elevation doesn't show it) and after such a steep decline, every incline felt like Mt. Everest. I honestly just kept trying to give even effort. I began getting stitch cramps in my stomach and tears began to form in my eyes. I know I backed off a bit and I'm mad that I did. But it wasn't for long.  I was breathing like I was drowning and one guy actually asked if I was okay. That's when I realized I needed to calm down because the only way to regain control and possibly save this race was if I gave it my all. I was like "I didn't come here to not PR!"
Miles 12-13
Once I hit 12 I realized I only had 2 miles to go! The landscape began to have some gentle descents and flats and it was better on me physically. I kept telling myself to push every 1/10 of a mile. It was almost like when you help beginner runners gain endurance and run to the next lamppost. I was doing that to myself but doing little speed bursts. I still had a cramp, felt slightly dizzy and my head hurt and figured my heart rate was probably out of control. (and it was).

With half a mile left I realized, I may still have a shot! So I ran what felt like 6 minute miles to me! As I came closer to the finish, I saw Jess, and she cheered for me and jumped in with me for about 1/10 of a mile . I couldn't talk but it was helpful to have her by my side. She let me bring it in by myself and I gave it everything I could at the end. I clicked stop on my watch and saw that it said 1:45:35 and was like I PR'd!!! Funny side note, the announcer called my name as I crossed the finish line and said I was from Alabama!  😛
CONCLUDING THOUGHTS
Even if I didn't do sub 1:45, I PRd! The official time was 1:45:29. I was ecstatic!!! I could barely stand up to get my medal but I finally did and found out Jess did awesome, too! She did a 1:26:10 and finished 3rd in her age group/7th overall female!
It was a hard fought race and I really am proud of myself!!!  Do I recommend it? Absolutely! Is it all downhill? No. But is it more downhill than any other race you've probably done? Yes!

Check out Revels' lineup of downhill races here! Aside from being an awesome race, they also give you free race pics! And just so you see, I don't always take good ones. Seriously, wtf. Haha.


Enough of that. Now I want to wear long sleeves and tights on my next race. 🙂
Running this kind of makes me want to do another half soon just to see if I can do a sub 1:45. But I also want to appreciate this victory and enjoy the downtime before I have to start marathon training for Chicago.
Have you run a Revel race before? If so, which is your favorite? If not, which one do you want to run? Comment below!
XOXO,
Jess

---