*** Disclaimer: I received the items I reviewed in this blog post free of charge as part of my partnership with Road Runner Sports. My opinions and review are all mine and are not influenced by Road Runner Sports and Nike in any manner. ***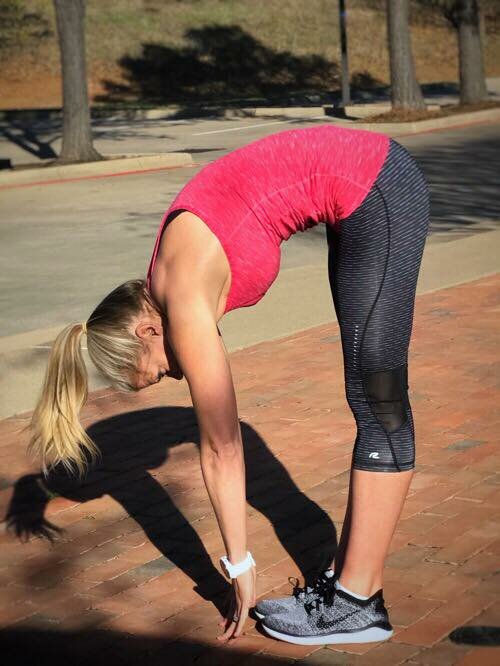 We live life on the go. It's a sad but true fact. Whether you stay at home or work outside the home, chances are you aren't sitting on your tush working on your manicure during the day. Just fitting in your workout is hard enough and getting in a shower (if you are lucky enough to even get one) before your hubby gets home (in my case) is a victory! I got so much great feedback about my last 5 non running items I purchased post (2 blog posts back, click link) but a few people emailed me and said that they rarely get out of their running clothes. So today's post is all about how to transition your running clothes into day wear, and still be appropriate enough to meet a friend for lunch or pick the kids up at school!I started my day with an easy 6 miler with 4 x 25 second strides at the end. I lucked out with 50 degree weather though I had brutal Dallas winds (so luckily didn't sweat too much). Knowing I was going to be on the go all day, I brought my run clothes, dry shampoo, shower towelette, and two long sleeve options with me for my errands post run.

RUN GEAR
These were my RRS goodies!

And this is what I wore on my run.
RRS Revive Tank – in Super Pink size XS. This tank is breezy and light and wicked away sweat great! For those that know me you know I wear Lululemon a lot and this tank remind me a lot of the Swiftly Racerback top! $24.99 (VIP members $22.49)
RRS Recharge Compression Printed Capri – in Heather Black Stripe size XS. These capris are so cute on! They are soft and durable and do not show sweat! They aren't quite "compressive" but I also felt like I could've gone down a size (and there was no XXS option). $59.99 (VIP members $53.99)
Nike Free RN Flyknit 2018 Sneakers – in White/Black. This shoe has been revamped since the 2017 version with more midsole foam which mean more cushioning. This allows them to expand and retract with the foot for a more natural movement. The outsole has literally no rubber except for the toe and the heel so this does make running in them on slippery surfaces more challenging. Because of the flyknit upper, the fit is socklike. Unlike past Frees, the upper does not bother my bunions. The flywire bands provide support and structure and one thing I love about this shoe that I have problems with in more traditional styles is the heel stays put. I've only taken them out for 3 runs but so far, they are a fast shoe. Not for long runs (for me) because of my tendency to need more cushioning. But definitely responsive with my cadence being higher in them. For someone with a neutral gait, no podiatry issues (like me), these could be a great daily trainer! $119.95
POST RUN
Following my run, I didn't have time for a shower. Hey, it happens right? So I used a shower sheet (this is my favorite), dry shampoo (this is my favorite) and curled the ends of my hair and headed out for errands. I was gonna rock the run look and pray no one got too close. Please tell me I'm not the only one that does this?

I want to show you the versatility of the tops and how you can still look put together in workout wear! The first is a R-gear long sleeve wool top great to throw over a tank (you could even have flip flops on post yoga class) and just spruce up your hair. Mine is the lavender color and I got the XS size. This top has a side zipper for keys or fuel and is actually awesome for running, too!

The second is this amazing cardigan! I'm so sad because it's already out of stock, but the good news is there's a similar cardigan that I've linked here that is even cuter (for reference, my cardi is a small)!!! These are great because they look great over workout wear, casual wear, and even dresses!!! Check out both of these looks! Same cardi!!!



So did I sport "sport"? Would love to know your thoughts?!?! And which item you like best? Comment below and stay tuned to my instagram account in the coming week because I'll be hosting a giveaway for a $100 gift card to Road Runner Sports for one lucky winner so you can sport "sport," too!!!
XOXO,
Jess

---